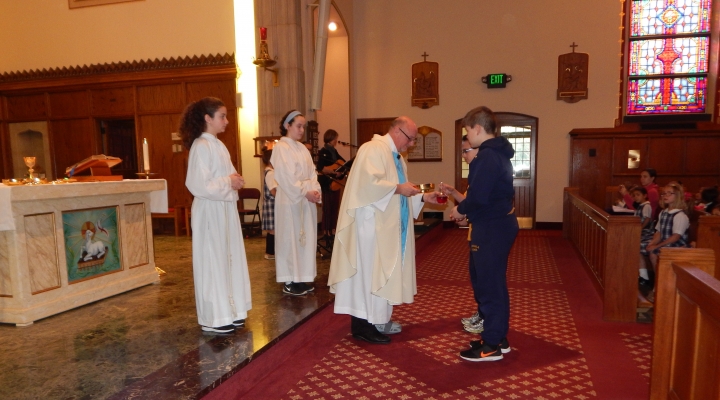 Faith
At St. Ursula teachers and students work together to define and nourish the moral formation necessary for a personal Catholic identity. Students put their faith into practice through regular celebration of the Eucharist, including participation in weekend Mass. Sacramental programs, prayer services, liturgies, and paraliturgical services weave together the parish and school families. Students study God's work and teaching in all curriculum areas. They apply their knowledge of faith through service to both school and parish communities during their time at St. Ursula School and throughout their lives.
Students are missioned to exemplify the values of the community in their continual outreach to others, both locally and globally. To learn more about our students' dedication to the community, visit our Service Outreach page.
Our special devotion to Saint Julie Billiart, foundress of the Sisters of Notre Dame de Namur, further enriches the school. Saint Julie's simple prayer, "O how good is the good God," affirms the goodness of God in our joyful times and in our sorrowful times, and strengthens our mission to practice our faith and through service to bring the good God to our communities. To learn more about St. Julie, visit our School Charism/Patron Saint page.
Click the links below for more information about St. Ursula Schools's faith-based community: